Food Delivery – React Native Template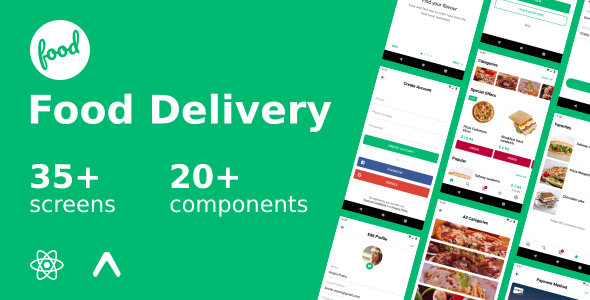 Food Delivery is component based application template for React Native. Source code has been written in JavaScript and the final application can be built both for Android and iOS platforms.
We have provided you with two versions of the application:
Food Delivery Pro – built over pure React Native
Food Delivery Expo – built over Expo SDK
Designed to save hours of work for creating unique UI, a powerful starter project that bootstraps development of your mobile application. The application has more than 20 components, 35 screen layouts and the visual design can easily be customized.
The available screen layouts are:
Onboarding (x2)
Welcome (x4)
SignUp (x3)
SignIn (x2)
Verification (x2)
Home (x2)
Categories (x2)
Category (x2)
Product (x1)
Search (x1)
Search Results (x2)
Cart (x2)
Checkout (x2)
Favorites (x2)
Settings (x2)
Edit Profile (x2)
Delivery Address (x2)
Payment Method (x2)
Orders (x2)
About Us (x2)
more to come (soon)
The available reusable components are:
Avatar
BottomSheet
Buttons (x3)
Cards (x5)
CreditCard
Divider
GradientContainer
Icon
Keyboard Numeric
Logo
Modals (x3)
Navigation
Pickers
StarRating
Text
TextInputs (x2)
more to come (soon)
Application Demo
What you get in package
Source Code in React Native
Source Code in Expo SDK
Project Documentation
Note: This is just a UI template, no backend functionality included.
If you want to start a project related with food delivery mobile application, just try it now.