quuqa: React Native Dating App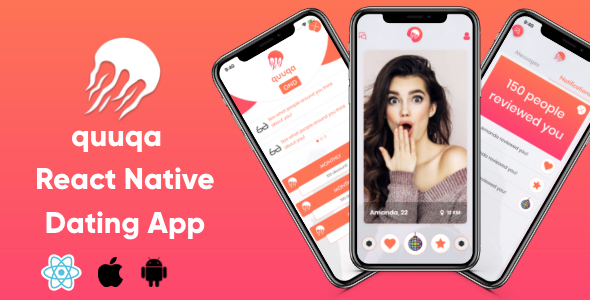 quuqa: React Native Dating App
quuqa: React Native Dating App
quuqa is a awesome & unique react native dating app theme (not included backend). Fully responsive and 18+ page screen included.
– Geolocation included
– Permissions included
– Photo Library and Camera Added!
Pages and Designs
Welcome
Register
Validate Phone
Login
Home 
Card
Card Detail
Messages
Message Detail
Report
Notifications
Get Premium
Profile
Settings
Basic Info
Profile Photo Upload
Privacy
Feedback
Search Settings
Detailed Documentation
Demo and Previews:
Demo Video: https://youtu.be/fhR9F52oBT0
Demo Apk: https://yadi.sk/d/MV6lsVjH6Elu1A
Reviews
Only logged in customers who have purchased this product may leave a review.