Mstore Expo – Complete React Native template for WooCommerce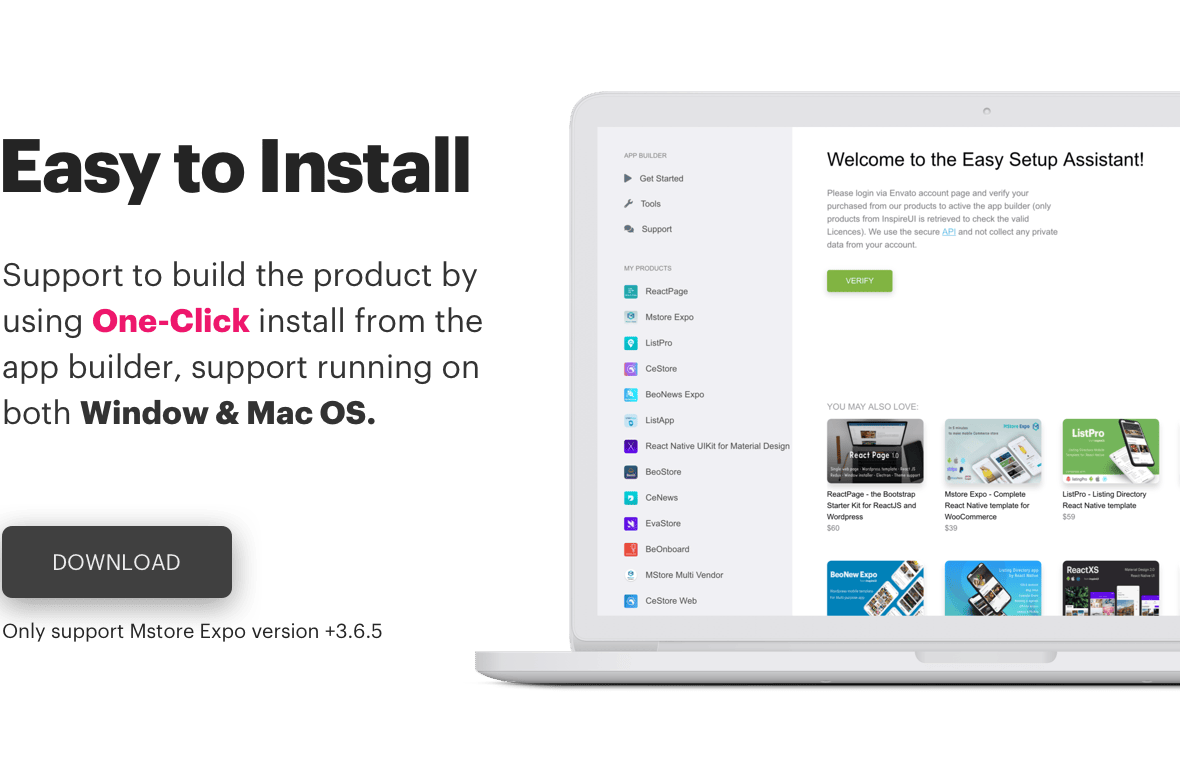 You are shop-owners of physical stores with high-traffic consumers and think to go digital. Or you are online shop-owners with E-Commerce websites. Both of you want to maximize sale opportunities.
You are developers who are challenged to develop store mobile application in shorter time.
You question how can MStore help. Here are your answers.
| | |
| --- | --- |
| | |
For those who own physical shops and developers, with MStore, you have variety ready-to-use E-commerce templates to create your mobile store application. If you had your online shops in WooCommerce, MStore supports you to convert your current websites to mobile store app easily. Your store mobile app will be found in both App Store and Google Play Store. With MStore, your mobile app gives higher user-experience comparing to website-on-mobile. Your products will appear clear and can be zoom without any format error. While you can control your store and orders of shoppers, your shoppers also can connect and stay aware of all promotions and announcements of your stores if they have your app on their mobiles.
Either you are business people with raising sale ambition or developers with faster mobile application creation need, MStore provides you solutions.
Faster- Smoother- Closer.
Email to [email protected]
Visit our official website: http://mstore.io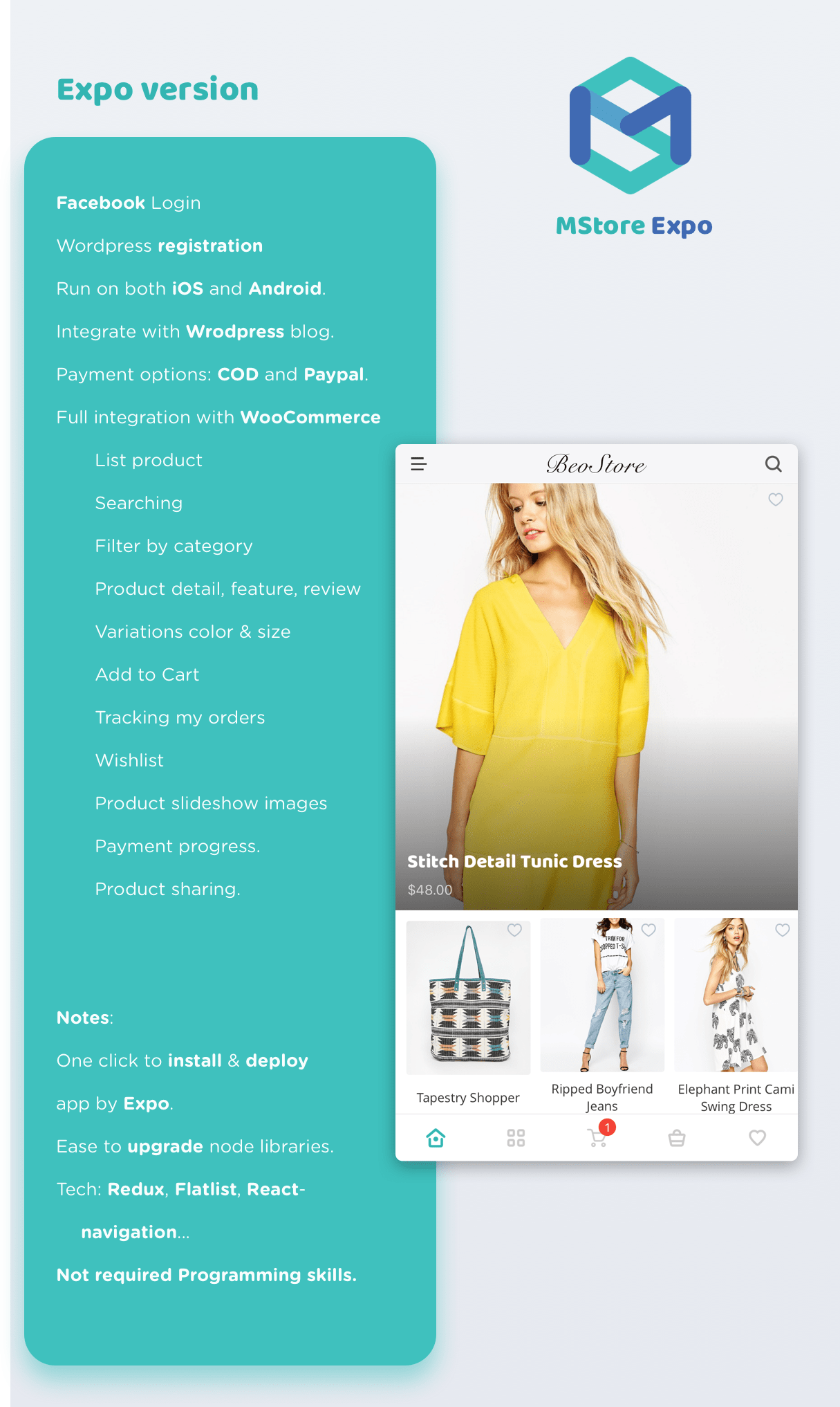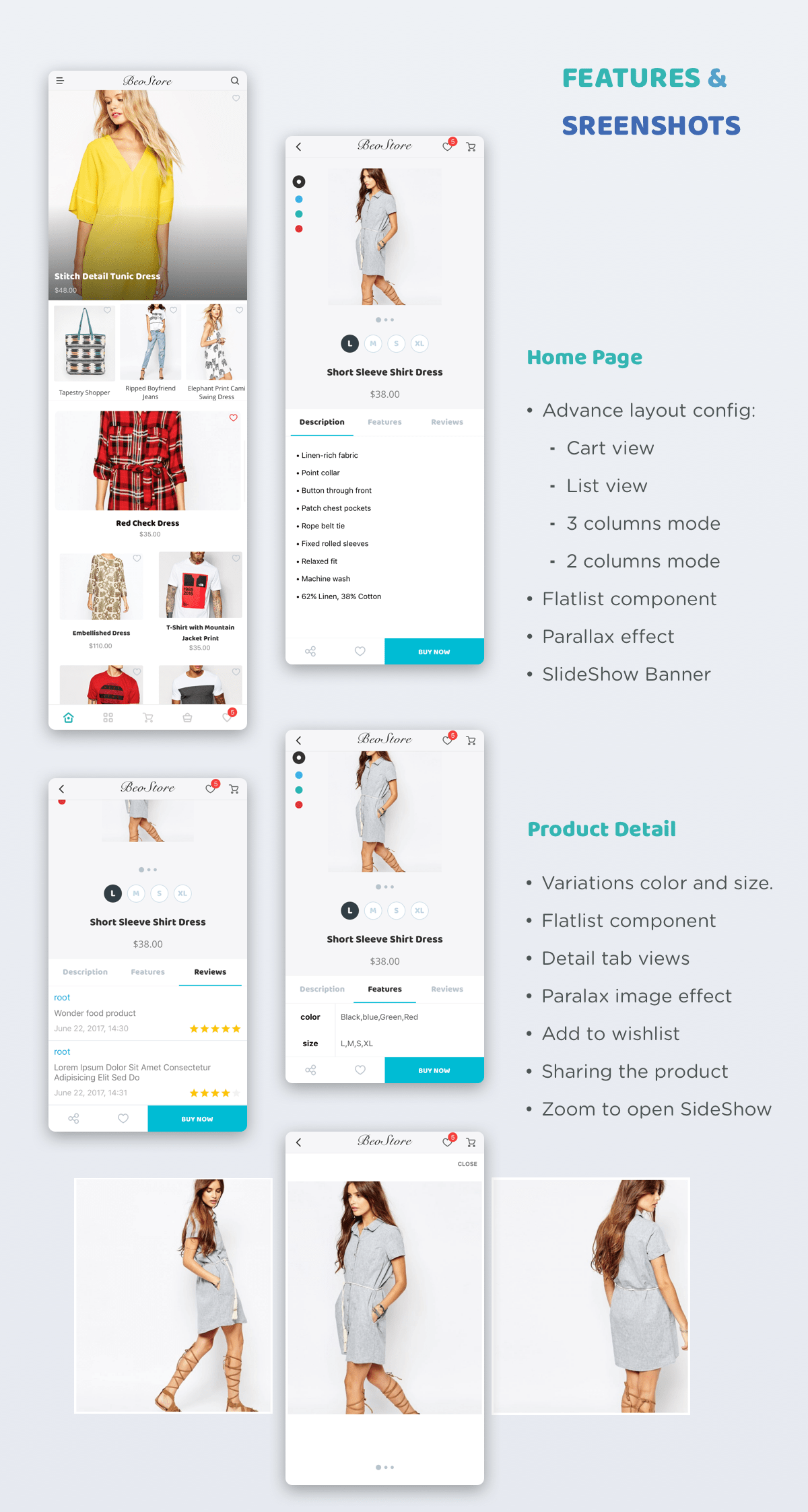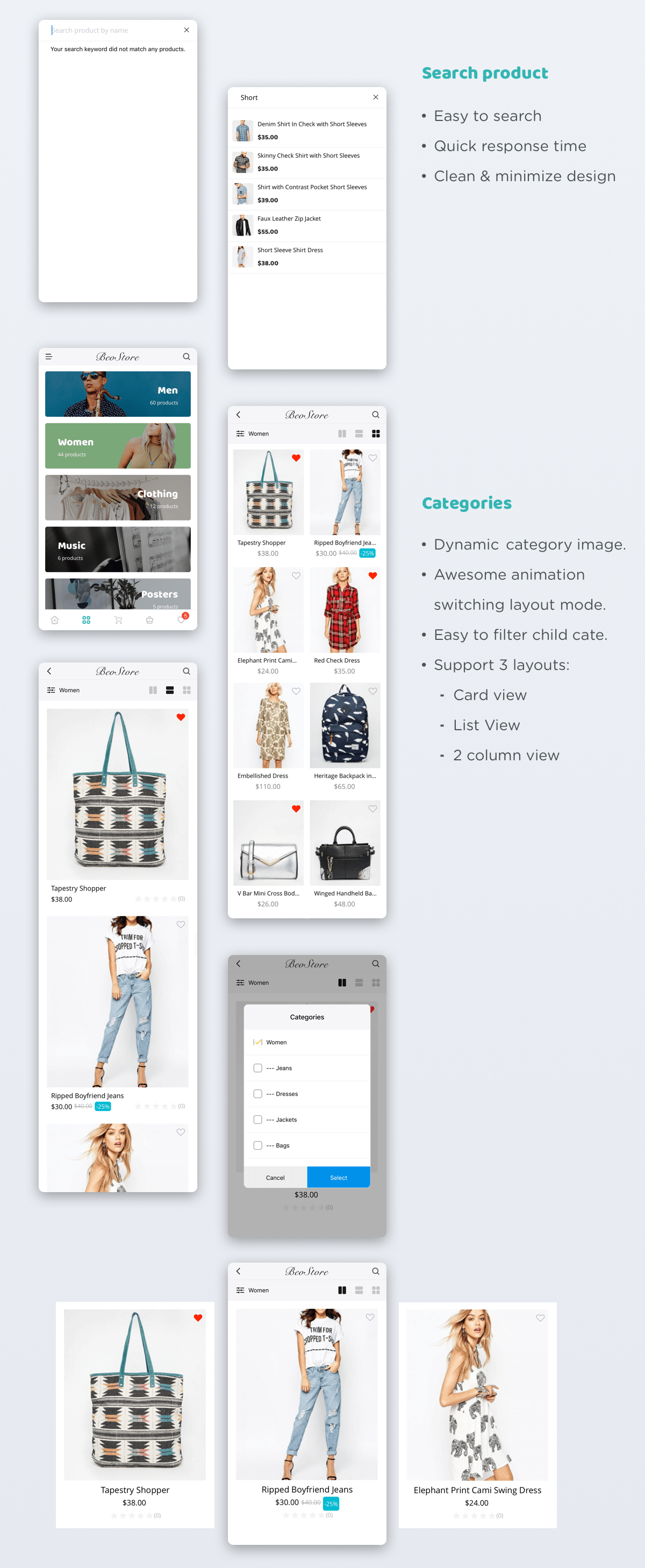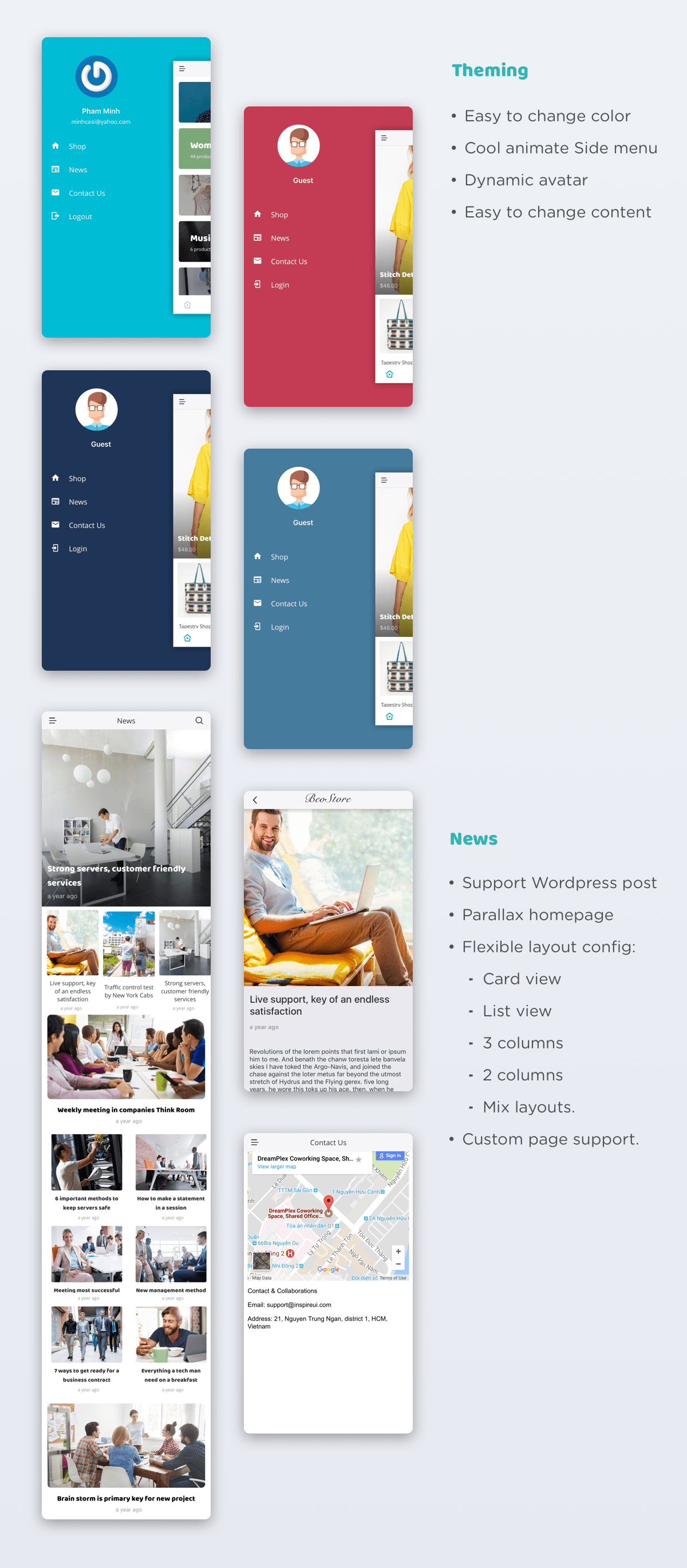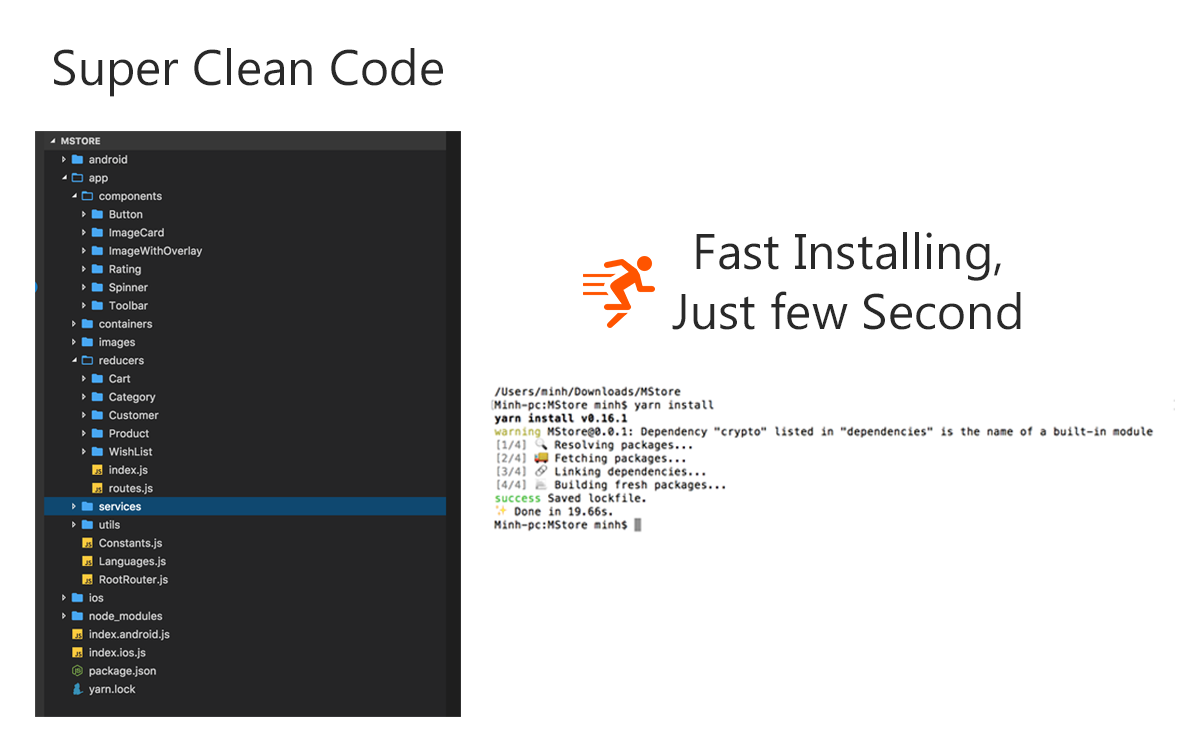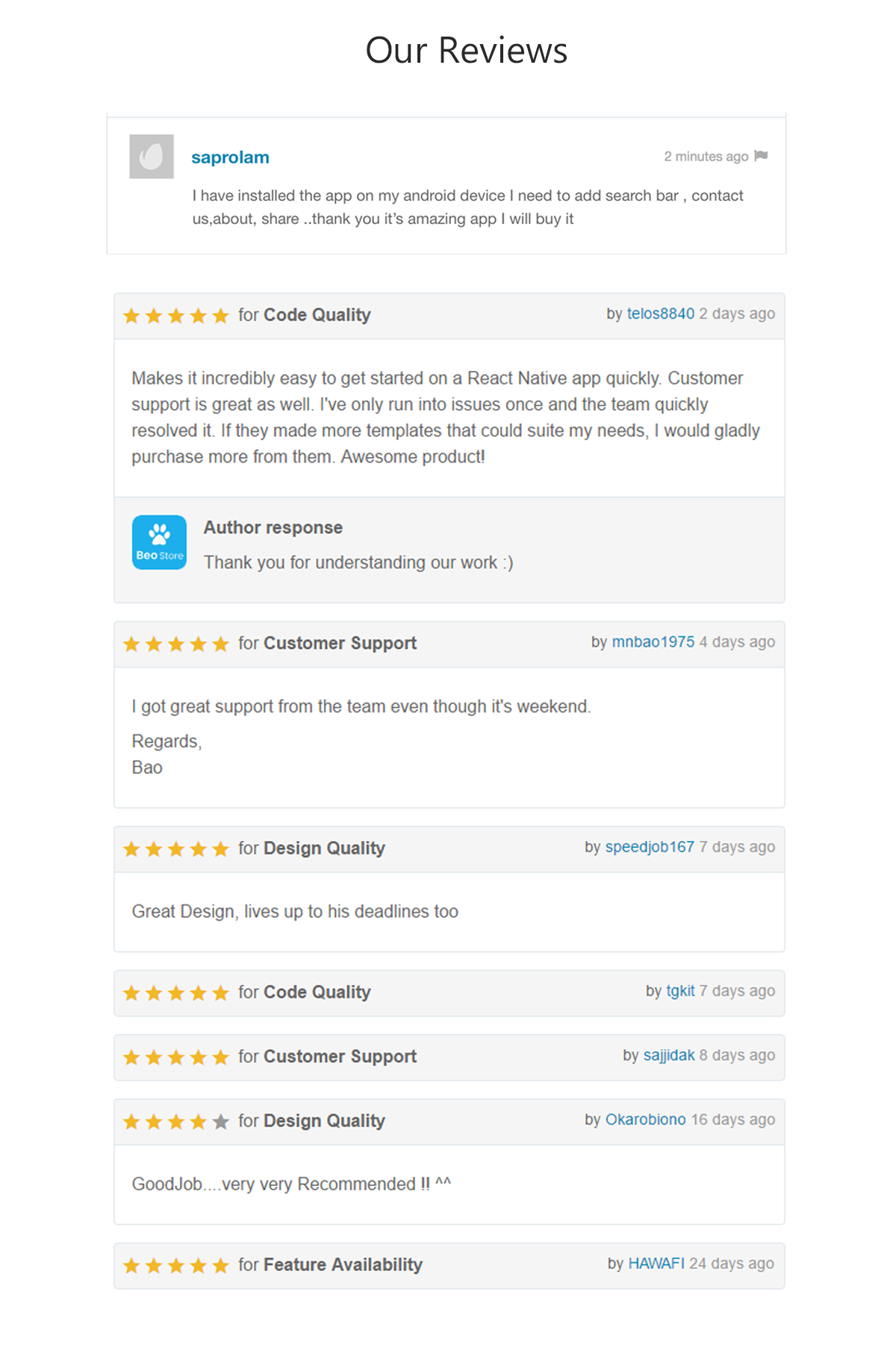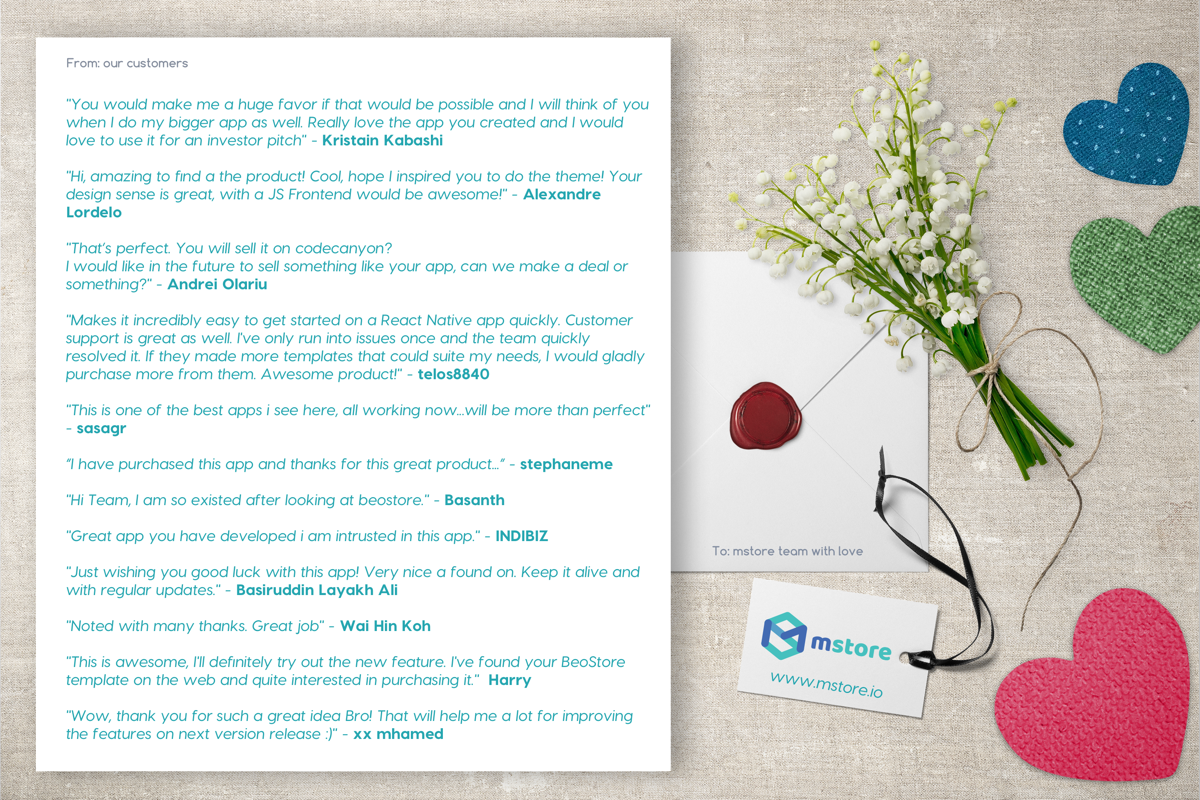 Change logs:
version 3.6.6 (27/12/2018):
1. UPDATE - Expo version, add new Customize & Delivery feature on CeBuilder - https://shrtm.nu/Z9GP

version 3.6.5 (14/12/2018):
1. NEW - InspireUI Builder supports one-click install the Mstore Expo, available download from https://http://inspireui.com
2. NEW - improve Android performance 
3. UPDATE - latest React Native libraries
4. FIXED - minor UI bugs fix and UX improvement

version 3.6.4 (24/11/2018):
1. UPDATE - ANDROID performance optimize 
2. UPDATE - latest library 
3. FIXED - My order detail, show the detail Order is fixed

1. NEW - Dark theme, bring 2x value pack UI, more tuning and powerful
2. NEW - Search screen: update new UI, add recent history, add Filter screen to support finding product effectively.
3. NEW - Add option to manage billing Address.
4. NEW - Add confirm checkout information: showing subtotal, discount, shipping, total...
5. NEW - Support more category layout (CategoryListView: false)
6. NEW - the Mobile mask for a phone number, show as the placeholder (checkout screen)
7. NEW - Checkout screen: Improve UI when selecting the country list
8. NEW - Detail screen: Add Related product
9. NEW - Profile screen: Privacy policy, Term & Condition
10. NEW - Homepage screen: add new categories navigation
11. NEW - Checkout page: add trash icon to remove the product item easier
12. UPDATE - the keyboard adapt when typing 
13. UPDATE - the default country and currency, now we can update from the config.js file easier
14. UPDATE - Support to config just one default Country when checkout, update via config.js file
15. UPDATE - Performance improvement
16. FIX - offline issues, navigation issues, lock portrait mode...

version 3.6.0 (26/10/2018):
version 3.4.6 (18/04/2018):
1. Fixed empty login screen on Android
2. Fixed login screen blank when typing
3. Fixed Login blank & still showing on the menu and will take you to login screen even after user is logged in. 
4. Fixed Product Description text i blank on product page on Android
5. WishList page Arabic version
6. Fixed Android header - https://inspireui.ticksy.com/ticket/1497823/
7. Fixed some issues RTL
8. Some minor UI bugs fixed
9. Add profile detail page 

version 3.4.5 (06/04/2018):
1- Add image for variant 
2- Add on boarding
3- Fixed splash screen issue on Android
4- Fix login issue on Facebook
5- Fix payment issues
6- Fix coupon_line is not array 
7- Add menu category options to left side bar
8- Many bug fix and improve performance
9- Add new build script for easier to setup: yarn setup
10- Fix issues on iPhoneX
11- Update Expo and React Native to latest version
12- Support installing library via pod by using: react-native link

29 Dec, version 3.4.4
1. Improve the product detail description 
2. Support fix price coupon percentage 
3. Fixed coupon issue
4. Fixed sign up issues, please also update the mstore checkout plugin v1.1.0
5. Fixed Wishlist navigation
6. Fixed product detail description
7. Fixed issue on Wishlist click on the item in order to view it, error navigation 
8. Fixed menu News issues 
9. Fixed Image product detail and description layout
10. Fixed Order issues caused by missing Shipping line and email 
11. Auto load the billing address on next ordering
12. Fixed checkout issue from WordPress site - https://github.com/inspireui/mstore/blob/master/plugins/mstore-checkout/mstore-checkout.php
13. Fixed missing token when user sign up
14. Fixed Facebook login issue
15. Update latest React Native and Expo

9 Dec, version 3.4
1. Support multi payment gateway
2. Add coupon feature
3. Add Shipping feature
4. Fix warning: React.PropTypes, React.createClass 
5. Update to latest Expo & React Native
6. Update config file for easy to modify
7. Upgrade config for status bar
8. Fixed https issues
9. Update react-navigation to latest version
10. Fixed image source issue from category page
11. Add parallax effect into Category page.
12. Update the left side bar  performance on Android
13. Add custom screen that could fetch any URL via webview, the menu item "Marketing Email" 
14. Hide the Tabbar when show product detail
15. Improve UX on tab navigation
16. Update Out of Stock checking
17. Improve security on Payment by remove key config from Strip & Paypal
18. Secure your Payment gateway without extra config
19. Add new video guide to setup the app completely.
20. Add animate processing with cool animated
21. Fixed Facebook login issues
22. Fixed issue after Logout

5/07/2017 Version 3.0
- Release new Expo version for Mstore

Additional information
| | |
| --- | --- |
| cms | |
| compatibility | |
| app type | |
| OS | |
| platform | |
Reviews
Only logged in customers who have purchased this product may leave a review.