9ecom
9ecom is a Nice Full Ionic 4 E-commerce themes, design for easy to customize and ready to use. It contains many useful elements like Scrollable Categories, Expand/Collapse Memoziable Menu, Super Nice Cart base on Product attribute etc.
More over, all product organized by Nx to make all source code easy to reuse and update. And we use Reactive Form and NgRx to improve processing and performance with Angular 7. You can easy to change color style and images to adapt with what you need. Easy to put the data to view with model. It's the best and newest theme for your e-commerce or shopping app by ionic v4.
Note: Please pay attention, it's a advance source code product. You need to familiar with Nx, NgRX and advanced concept of Ionic 4 to modify and extend that theme. Not just simple theme to play.
About me
I'm Quang Anh (Arkay Lee). I'm a full stack developer (NodeJS + frontend). View my apps at Ionic Market & Github
Screens
Splash Intro Login Register Home Hot Deals Categories Product (with Related Products) My Cart Shipping Address Payment Checkout Profile My Orders Wishlist Saved Address Components Expand/Collapse Memoziable Menu Scrollable Categories Horizontal Product List Product with Nice Variant Attributes
Test before you buy
You can test the app using Android with that
apk
Support
- If you need technical support or have any questions, please drop me an email. - Automatically update to Ionic v4 Release version.
Screenshots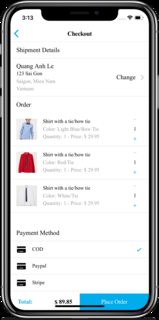 Update
- 15th Feb 2019: Update latest Ionic Native
- 29th Jan 2019: Fixed Address Form
- 25th Jan 2019: Update with Ionic 4 Release
- 2nd Jan 2019: Update – Ratings & Comments
- 28th Dec 2018: Fixed – Variation Images, Added – Welcome flow
- 22th Dec 2018: Published with Ionic v4 rc.0
Thanks Peerbits Solution for inspired design (not all page same as design)
https://www.behance.net/gallery/41369903/Free-UI-PSD-for-eCommerce-mobile-app