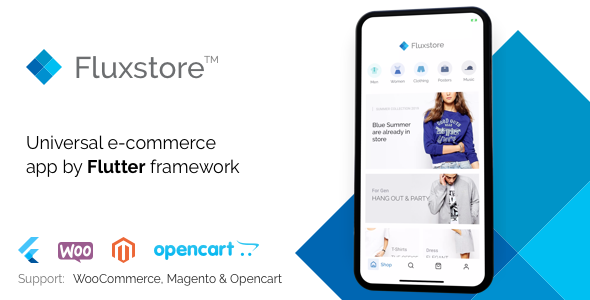 – Version: 1.0.0
– Last update: 25/06/2019
The Flutter is Google's portable UI toolkit for building beautiful, natively-compiled applications for iOS and Android app from a single codebase. As one of the fans of this framework, we create the first e-commerce app with beautiful design and full functionalities.
Fluxstore is the universal full app, compatible with the Woocommerce, Magento, and Opencart. The product is made by the Elite author with a high-quality commitment and regular update, you will get a free version update after purchase. Thank you for your value time to look at our product, we hope it could be saved your massive hours of development and testing in Flutter worlds.
Features availables
1. Full e-commerce features: Product variants, checkout process, order tracking, refund, order notes, wishlist, manage address.
2. Great UX design: multi-level categories, quick product filter, super smooth checkout flow, searching keyword history…
3. Flexible homepage config with Banner Slider, Banner Grouping, Flexible product column views.
4. User Profile which useful setting: push notification to turn on/off, get notification unread, view wishlist, order history, rate the app on app stores.
5. Social Logins by Facebook SDK.
6. Push notification (with notify history) via Firebase
7. Google Analytic via Firebase.
8. Easy to restyle and theming by on your branding sites.
9. Offline local caching.
10. Compatible with the latest WordPress blogs.
11. Compatible with latest WooCommerce.
12. Compatible with latest Magento 2.x
13. Compatible with latest Opencart (with free Free Opencart API is included)
14. Easy registration by SMS Login by Facebook Account Kit
15. Instance synchronization from mobile to the server.
16. Perfect splash animation by using new Flare.
17. Working really well on both iOS and Android with support with 60 frames per second (fps).
Reference links
– Support Github: https://github.com/inspireui/support/issues
– Document guide: https://docs.inspireui.com/fluxstore
– AppStore demo (iOS): https://apps.apple.com/us/app/mstore-flutter/id1469772800
– Google Play demo (Android): https://play.google.com/store/apps/details?id=com.inspireui.fluxstore
– Company website: https://inspireui.com
Thank you so much for your time to visit our website, to explore other products from InspireUI please refer to more link below