Bills Padi Mobile and Bills Payment Template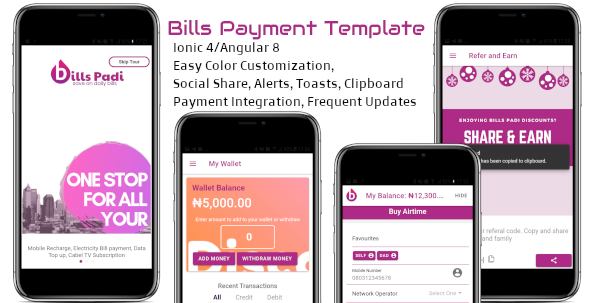 Bills Padi is a modern Mobile Payments template for apps that include bills payment, online payment, mobile wallet applications, airtime recharge, data-top, online electricity bill payments among others.
Built using the recommended best practices for Ionic 4 and Angular 8, the template gives a very rich native feel and optimized for fast responsiveness.
SOME INTERESTING PAGES
– Three (3) High quality Slider (intro/tutorial) pages.
– Mobile recharge Page.
– Data top – up page
– Electricity recharge page
– Cable TV subscription Page
– Wallet page
– Transaction History
– Profile page
– add money to wallet
– Flutterwave Payment Integration
– Transfer to Bank Account
– Transfer to others bank account
– Social Sharing
– Refer and Earn (Referal System)
Integrations
– Alerts
– Toasts
– Social Share
– Copy to Clipboard
– Modals
– Badges
– Action Sheets
– Payment Gateway (Rave by Flutter Wave)
Coming soon
– Screen lock
– OTP Verification Page
– OTP Verification Success page
– Transaction PIN confirmation Page
– Add Card Page
– Manage Cards Page
– Many more
Do you need the backend and Admin functionalities for this App? Contact us as we have it ready and will be willing to customize it for your own specific needs.
Simple Installation Instructions
Make sure you have node and ionic installed on your system
- Extract the app folder 
- cd into the app folder
- run npm install
- run ionic serve  ( to test in browser) or ionic cordova run browser to test in browser
- connect android device and run "ionic cordova run android" to install and test on phone

If you need help setting up on Google Play Store or Apple App Store please feel free to contact us