Zapes is a React Native App Template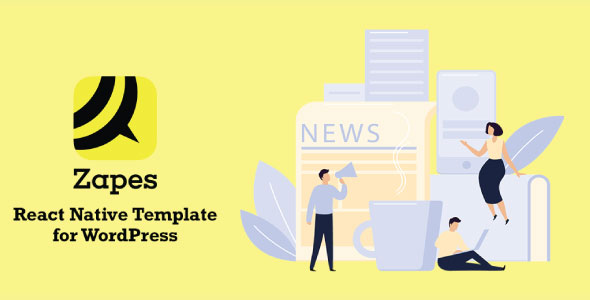 PRESENTATION
Zapes is a React Native App Template. That works both for iOS and Android. Comes with WordPress, we provide a "Customized Content" solution.
What is "Customized Content"?
Zapes transfers exactly all contents with different formats that you created in WordPress website into your mobile app without any coding skill and development time. To engage with customers in mobile, we need mobile app. Zapes maximizes your customers experience and usability through UX flow in both Android and iOs.
WHAT DO YOU GET
● Source Code in React Native
● Project Documentation
FEATURE
Zapes provides you a solution to engage and maintain relationship with your customers through true mobile native app that is easy to control and simple to manage.
● Multi-Media: With Zapes, you can take your customers through all multimedia such as video, photo, blog listing, YouTube smoothly.
● Cross-Platform: Works well on iOS and Android.
● Multi-Layout: Grid type, Card, Left, Right thumb.
● Easy Setup and Customize: We provide User Guide with Detail,
● WordPress CMS: You will have your own admin dashboard so you can use it to control your app.
● Others feature: Bookmark, Search, Bookmark.
● Online Support
DEMO
If you want to play with it before deciding to give it a try, you can download the demo apps from Google Play.
https://play.google.com/store/apps/details?id=com.zapes
CHANGE LOG
V1.0 – Release initial version.
Features:
● Home page: Show featured posts and latest posts by categories.
● Category page: Show list of post by: Grid, List, …
● Article page: View WordPress post content.
● Bookmark page: Add to favorite.
● Gallery page: Display gallery of images.
● Video page: View YouTube video on app.
SUPPORT
● Contact us via email: [email protected]
● Support request being processed on working days from 8:00am to 17:00 pm (GMT+7) within 1 working day after receiving the request.
NOTE: Setting up application doesn't include in product price. You can do setup by yourself or can hire our technical person to do that for you but that will be a paid task.
Reviews
Only logged in customers who have purchased this product may leave a review.