WooBox – Native Android App for WooCommerce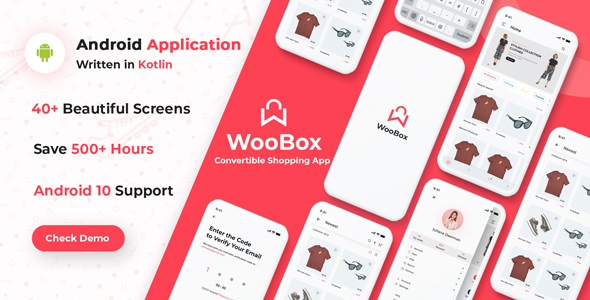 Discover iOS Version
Discover Flutter Version
FREE landing page
SAVE $125
Make your own online shopping app in minutes!
Eye-catching design and super-sleek aesthetics make WooBox the most desirable Android App for your eCommerce Store.
WooBox is an innovative set of beautifully build screens and functionality with essential product listing pages to crafting your own wishlist. The powerful set of app screens comes with features and interface that can create the most cutting edge, professional as well as engaging mobile application in the market today. Extremely easy to customize various sections and navigation styles, you can display your products in the most influential way. WooBox is flexible and grows with you. With a set of features listed below, WooBox will be regularly updated. Grab the amazing experience for your amazing project.
App Features:
Product List
Product Details
Product based on Categories
Search Functionality
Wish list functionality
Cart functionality
Review and ratting functionality
Filter functionality
Payment Integration
Admob Integration
Shipment Tracking
Requirements:
Android Studio Version 3.5.1
Gradle Version 3.5.1
Live WooCommerce Store
Video Tutorials:
Android App Full Setup & Customization: Click Here
Support
Faced a problem? Need assistance with the product? No worries – our customer support team is always ready to help you. Support requests are being processed on business days from 9:00 to 18:00 (GMT +05.30) [generally] within 24h to 48h in the order they were received.
Note:We have launched our support portal Desky. Please raise a ticket here at https://iqonic.desky.support/
Refund Policy
We don't offer a refund. (If the item is downloaded)
Please read the description and compatibility content thoroughly before purchasing as we don't offer a refund if you buy it by mistake.
Greetings from Iqonic Design
We are actively looking forward to your feedback in order to make our product more efficient for you. Thanks again!
Please Note: Live preview images cannot be used directly in client's live project. Those are used for preview purpose only.
Version 3.0 – 06 Jan 2020
- Search API Implementation
- Added Pagination in Product API, Search API
- RazorPay Payment Gateway Integration 
- Implemented OneSignal push notification

Version 2.0 – 25 Nov 2019
    - Fixed Image slide plugins bugs.
    - Added Auto install Plugins script 

Version 1.0 – 17 Nov 2019
    - Initial Release