UberClone – Ionic V4 & Firebase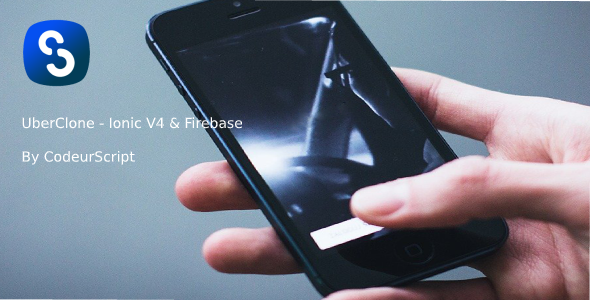 Uber Clone Ionic V4 & Firebase is the more advanced Uber Clone template using the Ionic framework.
You can see all the features of the original Uber, including driver & rider app with location system, go-on-car, payment , profile and the ranking system.
To buy this kind of over-developed clone, you need to master a minimum of Ionic but customizing this model is still very easy. In addition, we provide a customization service to help you develop your innovative features.
Ionic framework is easy to modify even if you are not a programmer and firebase is the easiest database storage where you can see all messages and emails that have been subscribed.

Features of our full mobile-app template: Client App :
Login/Sign up along with social logins
OTP and Forgot password page
Home Page for Taxi Booking
Google Autocomplete API integration
Select Cab type feature
Change payment page‌
Estimate fare page‌
Edit profile page
History page with details of the past ride
Add card page
Help page
Booking confirmation page
Route Map
Features of our full mobile-app template: Driver App :
Driver offline/Online feature
Ride history page with details of past rides
Add Payment/card page
Login/Sign up page
OTP Verification page
Add vehicle page/vehicle list
Wallet page
Document Mangement page
Notification page
Profile Update page
User Requests page
Rider/Customer Details page
Chat/Message/Call feature page
Invite your friend page
Invite sharing with SocialShare plugin
Features of our full mobile-app template: Admin App :
Login
Driver Details and Approval Page
Rides Records with the route map
Ride Details/Pickup and drop location
Customer details
__ CODEURSCRIPT __
YOU WANT TO TRY OUR MOBILE-APP SCRIPTS?
Link : https://drive.google.com/drive/folders/10KPv5mPlzM0aDH80N9RQj39SFsTYWw-Z?usp=sharing
YOU WANT TO CREATE & CUSTOMIZE YOUR MOBILE APP?
Link : https://codeurscript.com/agency/
CONTACT US:
- Email: [email protected]
- Skype: Codeurscript or  https://join.skype.com/invite/peatDx186OH6 
- Website: codeurscript.com
All right reserved
© Codeurscript.com