Paperless Queue Management System for iOS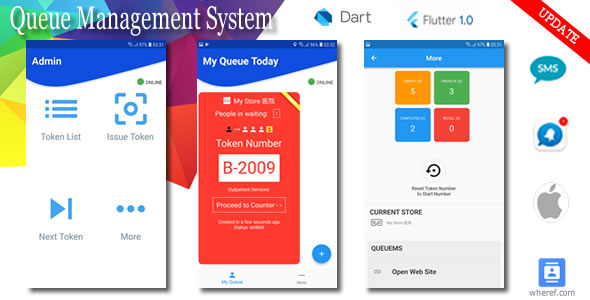 VERSION 1.6.6 is ready for download
This project is an Paperless Queue Management System. No need printer and just use mobile phone or tablet as the communication media. The end user and business people MUST login with mobile phone number to achieve higher security.
CLIENT APP is for the end user who create the token number on his/her hand. Once the token is created, the ADMIN APP will trigger the running queue one by one until the right end user will reach the right counter. Push notification will send to end user as an alert.
URL: https://play.google.com/store/apps/details?id=com.wheref.queuemsclient
ADMIN APP is for the business people who trigger the next token number. The issued token number saved on server side. End user is no need to refresh the CLIENT APP to get notification on the latest information from the server. Business people can create multiple store setting, but only select ONE store for ONE mobile number. When the business people issued the next token, the end user's distance will be shown to business people for estimating the end user position.
URL: https://play.google.com/store/apps/details?id=com.wheref.queuemsadmin
You can try UNLIMITED the features for the DEMO. The DEMO will be updated frequently for beta testing The service is not guarantee. Hope you like it and enjoy.
Preview Demo default account (no need wait SMS varification):
1. Phone: +60121234567, PIN: 111111
2. Phone: +60161234567, PIN: 111111
3. Phone: +16505551234, PIN: 123456
However, real mobile phone number is working and an SMS varification will send
To test CLIENT APP, the timezone of the store MUST match with the user mobile phone timezone.
Otherwise, you should create a NEW store at ADMIN APP which match you mobile phone timezone.
Online Documentation is ready for reading and more understand about Paperless QueueMS. Don't hesitate and feel free to drop an email to [email protected]
| | |
| --- | --- |
| Client | Biz People |
| | |