IMABuildeRz – Universal AppBuilder for Ionic v4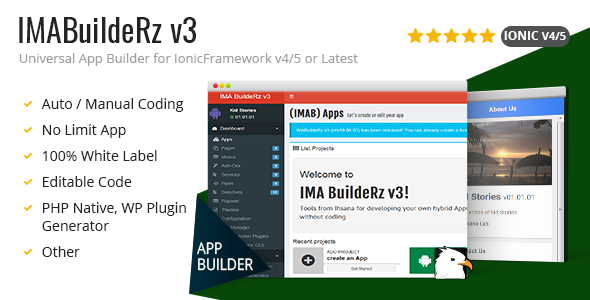 Now discount! This price will be valid until Sunday!
IMABuildeRz v3 is the successor of IMABuilderz v1, but this is different from the previous version, ionic 4/5 uses the typescript and scss programming language, in other words using modern programming. Please read the difference and and expertise needed: here
Latest Version: rev19.06.03, All imabuilder v3 users please use the latest version.
IMABuildeRz v3 is a web-tool (not SaaS/only for personal) to generate Ionic Framework v4/Latest (ionic/angular) code for apps, you can create no-limit app and backend. By using the Add-ons feature allows you to create apps with/without coding skill. The generated code is a source code that can be edited again such as HTML, Typescript, SCSS, PHP and MySQL.
So this is not a template, not an app based on a template (not like appBuilder generally), this is a code maker, code maker based on your instructions and based on your identity.
Features
Auto/Manual Coding, You can create an apps with/without coding skills
Unlimited App, You can make apps
without limits
100% White label, You can sell apps that
you have created
Editable Code, You will easily edit by using Comments or TODO
BackEnd Generator, You can ceate Own WordPress Plugin, Own Private CMS for Your App
Example Auto Coding Features
Backend-Tools

(IMAB) PHP Native Generator, Eazy create your own php and sql codes for a backend website for your apps
(IMAB) WP Plugin Generator, Eazy create own wordpress plugin for a backend website for your apps
(IMAB) JSON Editor, Create, edit, or delete an item from JSON file

Add-Ons

About Us, Make a page about us quickly and easily
Admob Free, A free, no ad-sharing version of Google AdMob plugin for Cordova
JSON Scraping, Scraping Data from REST-API/JSON
Data Merger for JSON Scraping, Merge data taken from JSON Scraping on one page
Form Builder, Eazy way to create a form request (next update: rev19.06)
Tab Bar Button, Bring together a few pages with tabs
OneSignal Push, To make code for OneSignal Push Notification plugin
Radio Player, Make a page for a simple radio player support Icecast and SHOUTcast Server
Step Wizard Slider, Create a page wizard for usage instructions, the data used is local data (offline)
WordPress, Create automatic code for wordpress
WordPress Media, Easy way to make a slider page used to fetching media on your WordPress
WordPress Page, Easy way to make the code used to fetching a page on your WordPress
WordPress Post, Easy way to make the code used to fetching posts on your WordPress
WordPress User, Easy way to make the code used to fetching users on your WordPress

Attribute Directives

appBrowser, Open with App Browser (Built-In Browser)
appWebview, Open with Webview
callApp, Open with dial App
facebookApp, Open with Facebook App
geoApp, Open with GEO App
googlePlayApp, Open with Google Play Store App
lineApp, Open with Line App
mailApp, Open with Email App
smsApp, Open with SMS App
systemBrowser, Open with system browser (External)
twitterApp, Open with Twitter App
whatsappApp, Open with Whatsapp App

Additional Directives

barcodeScanner, Scan a bar/qr code to do a search, open a link, or open a page!
instagramApp, Open with Instagram App
payWithPaypal, Create a button for pay with paypal
streamingMedia, Stream audio and video in a fullscreen, native player on iOS and Android

Pipes

objectLength, Get the object length
phpTime, Used to change the php format timestamp to JavaScript format
readMore, Split text and give a trail
stripTags, Used to strip HTML tags from a string
trustResourceUrl, sanitizing Resource URL
trustUrl, sanitizing URL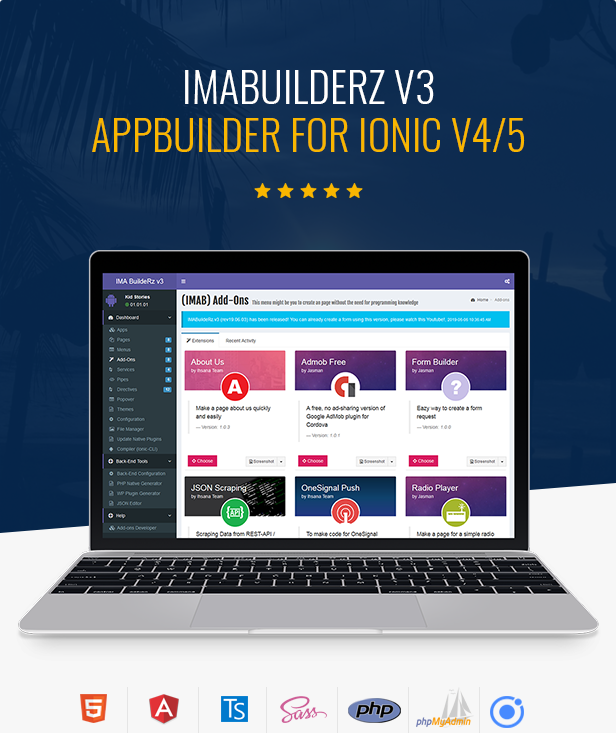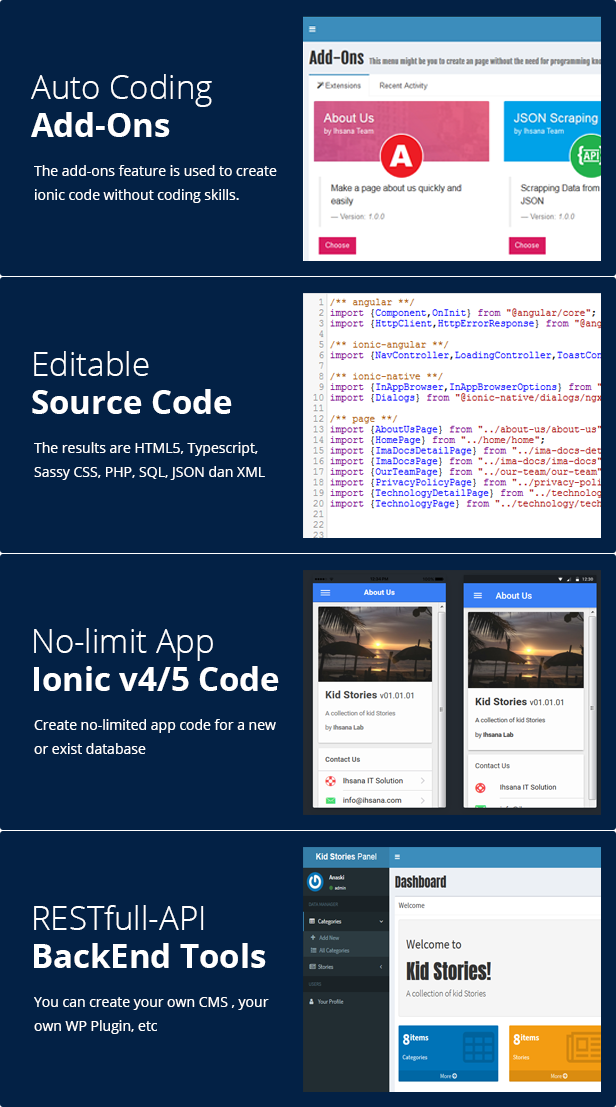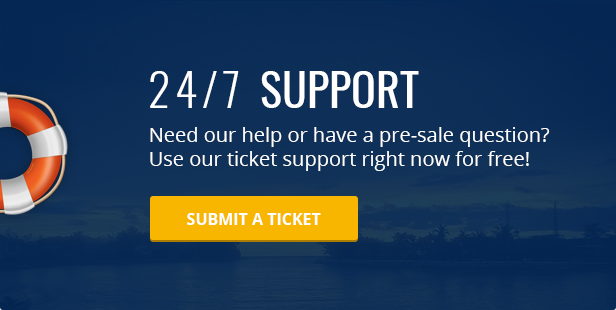 IMABuildeRz v3

= Rev19.06.03
- Improved: (IMAB) Add-ons -> JSON Scraping
- New features: (IMAB) Add-ons -> Tab Bar Button
- New features: (IMAB) PHP Native Generator -> Submit/Reguest POST/GET Method

= Rev19.05.28
- New features: (IMAB) Add-ons -> Form Builder
- Improved: (IMAB) Themes
- New features: (IMAB) Add-ons -> Data Merger for JSON Scraping

= Rev19.05.13
- New features: (IMAB) Page -> Layout Type -> Search Bar + Barcode Scanner
- New features: (IMAB) Directives -> Additional  -> Barcode Scanner
- New features: (IMAB) Directives -> Additional  -> Streaming Media
- New features: (IMAB) Directives -> Additional  -> Text To Speech
- New features: (IMAB) Directives -> Additional  -> Paypal
- New features: (IMAB) Directives -> Additional  -> Share Via Instagram

= Rev19.04.29
- Improved: (IMAB) Add-ons -> About Us
- Improved: (IMAB) Add-ons -> OneSignal Push
- Improved: (IMAB) Add-ons -> WordPress
- Improved: (IMAB) Add-ons -> WordPress Page
- Improved: (IMAB) Add-ons -> WordPress Posts
- Improved: (IMAB) Add-ons -> WordPress User
- New features: (IMAB) Add-ons -> Radio Player
- Improved: All Add-ons

= Rev19.04.22
- New features: (IMAB) Add-ons -> Admob Free Add-ons
- New features: (IMAB) Menus ->  Header -> Expanded Header
- Improved: Ionic Production
- Improved: (IMAB) Compiler
- Improved: (IMAB) Native

= Rev19.04.15
- New features: WordPress Add-ons
- New features: Popover Component
- New features: (IMAB) Pages ->Corner Button
- Improved: All Add-ons

= Rev19.04.09
- Improved: (IMAB) Pages -> Background Color, Custom Color, Background Image
- Improved: Compatibility with Linux and OSX

= Rev19.04.08
- New features: Services Menu
- New features: Directives Menu
- New features: JSON Editor
- Improved: (IMAB) Apps -> StatusBar Style
- Improved: (IMAB) Pages -> Content -> Styles, Script, WYSIWYG Editor, Modules and History, Clean History 
- Improved: (IMAB) Menus -> Menu Position, Menu Type and Header Color 
- Improved: (IMAB) Add-Ons -> Screenshoot Button
- Improved: (IMAB) Themes -> More Color Variables

IMABuildeRz v2
- imabuilder v2 was changed to imabuilder v3 (ionic4 support)