GrabCab React Native Taxi Booking Full App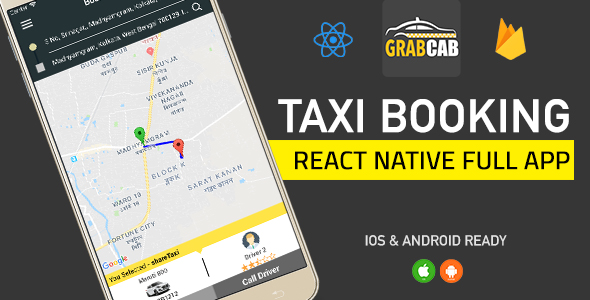 Test Users
Upcoming Features for Next Version
Social login with facebook.
Multiple cab booking feature.
Promo code/Discount feature.
Payment gateway integration.
Chat feature between rider and driver.
Admin portal live driver tracking.
Note:- Users who have purchased already will get the upcoming changes for free.
GrabCab Change Log
v1.0

Search location using google auto-complete.
One step and easy booking process.
Only one booking at a time.
Live tracking of your ride.
Ride alert for nearest drivers.
Only Email/Password login is integrated for this version.
Forms Validation ready.
Smooth Animation between screens with drawer navigation.
Infinite scroll and clean UI.
Fully component based project structure.
Billing and Rating Ready.
Complete bookings history.
Backend with Firebase real time database (Firebase is Google's mobile platform that helps you quickly develop high-quality apps and grow your business).