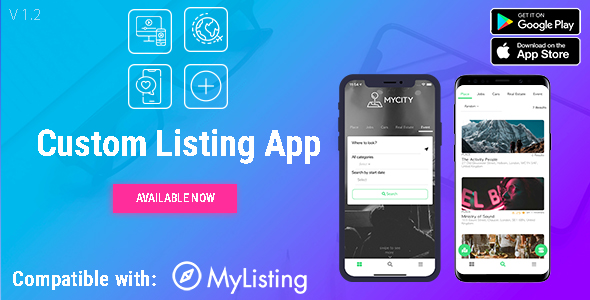 Demo
Try now the app demo, both for iOS and android
This product is not related to MyListing or 27collective team It's an app compatible with MyListing theme developed by ItalianCoders. MyListing theme is not included in this product and must be purchased separately.
Change log
Version 1.2.1
– Login feature
– Posting of reviews + custom ratings
– Related listings
– Listing dashboard
– Bookmarks
– New categories list page
– Bug fixings
– UI improvements
– New customisations (Change the tab icons, Change background color, New listing list type, New listing page type, New card review style).
Version 1.1.4
– Changed flag from Hong Kong to Taiwan for Chinese Traditional
– Added the comma separator on custom fields table listing page
– Search by custom field text fixed
– New pin placeholder in the map
– Fixed img placeholder bug not showing fixed listing list not full width bug
– Fix proximity default value
– Fix search by string
Version 1.1.3
– Little bug fixings
– Update of the plugin to support the claimed information (blue check)
Version 1.1.1
– Compatibility with MyListing v. 2.1
– Contact info and action buttons hide/show customisations + claimed icon.
– Custom page and custom icon tab.
– fix errors search regions e custom field/taxonomy + search.
– Customisation action buttons style.
– graphical fixing, new style for search page: list or boxes.
– iOS Post bug scroll fixed.
– new Languages: Dutch, Chinese Traditional and Simplified, Albanian, Portuguese, Japanese, Malay, Romanian