CareMatch – Mobile Dating Application ( React Native )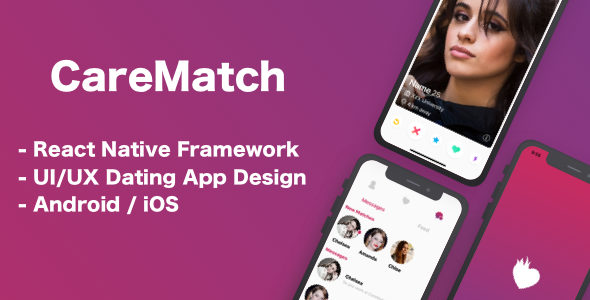 OVERVIEW
CareMatch is written in react native framework. React Native is the best framework for mobile application. They created iOS and Android application and also performance same like native base. CareMatch is a dating application. I have developed a UI/UX design without a backend.
– We Provide you
Email, Phone Login Screen.
Verification Code Screen.
Forgot Password Screen.
Home
Card Screen
Card Details Screen
Top Picks Screen
Profile Screen
Settings Screen
Edit Profile Screen
Purchase Pop Up Screen
Chat Screen
Message Screen
Feed Screen Etc.
 – What're the tools you have to
Webstrom/Atom
Android Studio
Xcode
React Native Command Line
Node Package Manager
Redux  
 – Build
You have change Color, Icon, and Logo.
Build the app android and iOS.