Introducing: the 5 Best Flutter App templates. Flutter the popular mobile application development framework driven by Google. Flutter is very quickly gaining popularity among developers, because it allows you to write code once for two operating systems, has the same high performance as its own applications, and also has the ability to flexibly customize the user interface for any design. And here is a selection of templates:
1) Airmart – Flutter Ecommerce Template
Airmart is the largest e-commerce mobile app Flutter template, which has thoughtful user flow and modern fresh design. This template is prepared for connecting the backend of your online store. More than 30 application screens, which include screens: categories, products, discounts, baskets, customer's personal accounts, etc. Convenient screen navigation, thoughtful user interface, in general, everything you need for a modern e-commerce conversion application! The Airmart Flutter Template is a compromise in design, convenience, and technology!
2) Treva Shop – E-Commerce UI KIT using Flutter
Treva Shop is a complete flutter user interface for all e-commerce tasks. Ready navigation meets the standards of a modern online store and application. There are all screens required for e-commerce. In addition, the template has some nice features like placeholders while pictures are loading and chats with sellers.
3) Flutter Taxi Driver Application UI Kit
Flutter Taxi App Driver is a complete UI Kit application for receiving an order for the carriage of passengers. The application has a built-in navigator for a driver connected via Google Directions Service Directions. A personal account has been created with statistics on driver trips. There is a system of notifications and screens with payment. To connect the maps and the navigator to the application, you just need to insert your API keys into the prepared file.
4) Fluxstore WooCommerce – The Complete Flutter Ecommerce App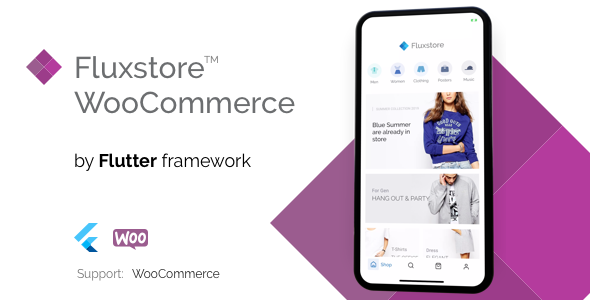 A complete e-commerce application is compatible with your WooCommerce store.
There is a ready-made Facebook login system and an SMS registration system. There are analytics and a push notification system from firebase. Instant synchronization with the server. Filters for categories and attributes, ordering system, search screen and full integration with WooCommerce.
5) Flutter Mobile Restaurant UI KIT
Flutter Mobile Restaurant UI KIT is a standard well-designed restaurant app template. Simple and intuitive design, with the basic functions required for a restaurant application. Many base features: LogIn system, dishes selecting, order delivery and payment. Application prepared to connect Back-end.
More Flutter templates.
How to get your item into our selection?
Submit your item on market here.
We add new products to collections in priority order.